Going Camping! First Time With a Sex Doll
Posted by Jack Sable on
I try my best to be as nice I can, I am a young decent man.  This happened to me a few months back while I was away from home. I have a girlfriend who is so jealous of every girl; I can't say she isn't jealous of my own mother sometimes either. I don't give her any reasons to be jealous. I have never cheated, I am quite a decent guy. It's ,my girlfriend who imagines all these crazy affairs (her sex drive it pretty crazy, a lot higher than mine). 
Linda, my gf, when she heard I was traveling out of town for 4 weeks, she decided to surprise me. After I packed my bag and went to bid her goodbye, she helped me with the bag into my sedan. After lots of kisses and hugs, I sped off.
Upon my arrival at the camp, I was given a private quarters and I was pleased with it. The camping was to last 4 weeks. That, my friend, is a long time for me not to be with Linda. Weird thoughts started gushing through my mind but then I cut myself a slack and went straight to my car to unpack my belongings. To my surprise, I found a large and heavy box in the back of my car with a note. "Open alone. I love you. L".
Not knowing what was in it, I dragged this mystery box into my room and headed for the first camp meeting. At night, I entered my room and went straight for the unknown long package.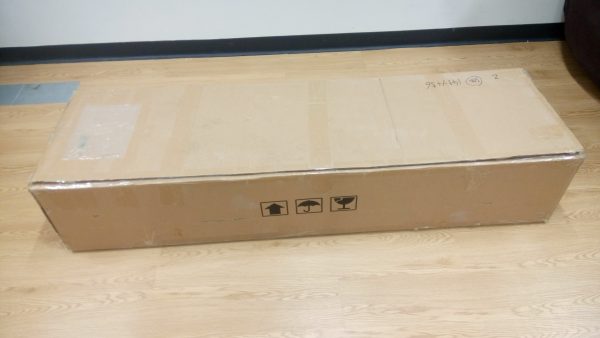 (This is the box it came in) 
At first, I thought it was some sort of manikin but after taking a closer look I realised the packaged contained a very real sex doll from PREMIUMDOLLS. WOW. I was amazed. My girlfriend had bought me a sex doll to cool off with.
I brought out the TPE Silicone doll; it was Britney from Premium Dolls with the huge tits. Linda knew I loved her huge tits and her green eyes.
I went straight into action because as soon as I set my eyes on the ultra realistic sex doll, my cock had risen to full length. I rushed the new sex doll, gulping my mouth with the huge full breast. I grabbed the ass as I was sucking at the boobs at the same time. It was super real.
The TPE sex doll had a height of about 145cm (just like Linda) and It all felt so real. I threw away all my clothes and bounced on her ass, dipping my whole cock in her ass from behind. To my surprise the doll started moaning like a real human! Her moaning increased my sexual drive and I kept pounding. After a while I turned her facing up and I entered her wet cunt. It was so sweet and I could unleash all my sexual fantasies on the love doll without any complaints from the doll. After pounding her cunt for several minutes, I entered her mouth and there I poured out my juice in full. I was so satisfied. I staggered into the bathroom and cleaned myself up. I entered my room, cleaned my new sex doll and kept her safe. All through my time with the ultra real sex doll, her body was giving off heat like a real human. It was an amazing experience. I kept my love doll from premium dolls safe from the reach of others at the camp and I banged her every night at the camp until I returned to meet Linda.
When I got back home, Linda asked me "How was the camp" and I answered "You made it better for me"
From Jeremy R. 
You can order Britney today! Just click here
Do you have a sex doll story you want to share? Send it to us at: support@premiumdolls.net. Get you story published and a discount code for your next doll!
More sex dolls stories coming soon!
---
Share this post
---
---
---
0 comments