10 Tantalizing and Fascinating Facts about Sex Dolls
Posted by Jack Sable on
There was a time in society when the mention of a sex doll usually came at the end of a crude joke, but as we all know, times change. Today, sex dolls hardly resemble their blowup cousins of years past. Instead, love dolls are so realistically designed and manufactured that it's hard at times to believe they aren't a real person. Becoming more and more popular and affordable, sex dolls are showing up everywhere, and here are few tantalizing and fascinating facts about these lifelike dolls!
#1. Sex Dolls Have Been Around Much Longer Than You Realize
Many believe that sex dolls are an invention of the 20th century. However, the first recorded historical account of the use of sex dolls is from the 1600s. More than 400 years ago, Dutch soldiers created leather dolls that they called "masturbation puppets." Eventually, Dutch soldiers would sell and trade their puppets to the Japanese. For this reason, in Japan, sex dolls are sometimes called Dutch Wives.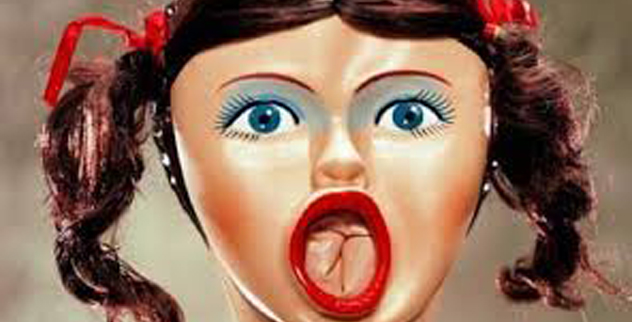 #2. Try Before You Buy – Sex Doll Brothels Around the World
While the traditional brothel is often still considered unlawful in most areas of the world, sex doll brothels aren't as scrutinized. From Toronto to Barcelona to Moscow, sex doll brothels are becoming a popular trend, and more and more businesses are opening doors worldwide. Sex doll brothels are also allowed to advertise and promote their trade openly. A billboard for a new brothel was recently unveiled along streets in Vancouver, and it most certainly caught the attention of passing motorists.
Are you a sex doll brothel owner? Want to order sex dolls in bulk? Check out our B2B sales page here. 
#3. We Take Sex Doll Custom Orders
Most customers buy their sex dolls "off the rack," but as we manufacture we can produce custom made love dolls. Thats why you can choose the skin color, eye color and nail color as well as interchange heads and bodies with any of our dolls. These are all free customization options. However for a premium price tag, for the discerning customer, you can create your own custom sex robot. The extra cost for a doll that looks exactly as you desire is well worth it. Just as some men prefer only finely tailored custom suits, the same is true for the quality and design of their sex dolls.
#4. Sex Dolls Came In Both Genders
Most sex dolls are indeed designed and created to look female. However, there is an increasing demand for male sex dolls. Historically, male sex dolls only accounted for 5% of total sex dolls sales, but as the popularity of sex dolls is trending around the globe, more and more male doll designs are being made to cater to female and gay male customers. Sex doll brothels are also allowing customers to spend time with either female or male dolls, and for special requests - both! 
Check out our Male Sex Dolls here - More coming! 
#5. Sex Dolls Are Not Always Just for Sex
While the primary purpose of a sex doll is for sexual gratification, this isn't always the case. The world can be a vast and lonely place, and for some, sex dolls feel an emotional void. Some sex dolls aficionados simply enjoy spending time with their sex doll. Like a faithful companion, they snuggle, watch TV with and share a meal with their dolls. This is happening specially when they can talk with them thanks to their AI speech capabilities. 
Check out the AI Sex Robots cool features and Collection
#6. Me and My Sex Doll – Until Death Do Us Part
Continuing along with the theme of  #5, sometimes a sex doll is more than a sex doll. Sometimes, as is the case for a gentleman in Michigan, a sex doll is a wife. After having his heart broken more than once, a 40-year-old man living in Michigan decided to marry his sex doll. Realizing that spending the rest of his life with just one doll might be too limiting, he also has another doll who is his mistress. It's unknown if his wife knows about his mistress. 
#7. The Sex Doll Industry Owes Howard Stern a Huge Thank You
Known for his risqué and raunchy on-air topics, Howard Stern bought a sex doll for over $5000 and reportedly had sex with it on his live radio show. As a result, the sales of sex dolls skyrocketed, and Howard Stern took sex dolls from being the topic of silly jokes to having 1000s of men wonder just what it would be like to spend a little quality alone time with a shockingly realistic doll.
#8 Sex Dolls Have Fans
As their popularity continues to grow, sex dolls are picking up a fan base that calls themselves iDollators. These fans view sex dolls as being so much more than just inanimate dolls. A documentary by filmmaker Melody Gilbert called Silicone Soul took a close look at the phenomenon of iDollators and how they believe that Sex Dolls have a soul. Seeing how live-like our sex dolls are, we believe they have a soul too. 
#9 A Sex Doll Inspired the Creation of Barbie
In Germany in the 1950s, there was a popular adult comic strip about a high-end call girl named Lilli. A doll was created and marketed for the character. Considered too sexualized for children, the doll was very popular among men. While it wasn't as well made or anatomically correct as sex dolls of today, the Lilli doll was undoubtedly not intended to be a child's toy. The Lilli doll would go on to inspire the creation of the Barbie Doll in America.
#10 Sex Dolls are Heavy
High-quality silicone isn't lightweight. The average sex doll weighs about 70 pounds. The weight is the result of the high-density TPE that is used to make the dolls feel soft, supple and lifelike as well as the steel skeleton (which allows you to do any sex position you can imagine). The heavier weight also gives the dolls a more substantial quality that lends to more realism. However, the heavy weight is likely another reason that sex dolls are not as appealing to women.
What do you think of these facts? Comment below!
Have you ever had a sex doll? Which one is your favorite? Do you have a sex doll story you want to share? 
Send it to us at: support@premiumdolls.com Get you story published and a discount code for your next doll.
---
Share this post
---
---
---
2 comments